AllDeynn CollaRose Fish Collagen Hydrolyzate Verisol Raspberry Strawberry 150g
AllDeynn CollaRose is an exceptionally refined supplement intended for all women who want to take care of their beauty and influence the healthy appearance of their skin, hair and nails.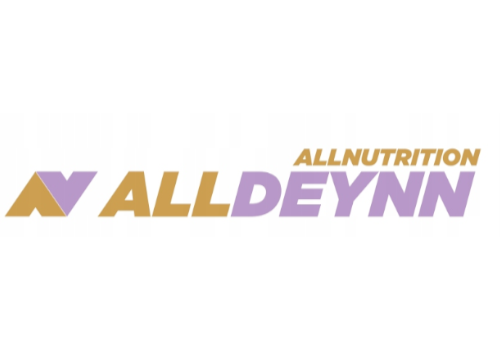 Easy return of products within

14

days from the date of purchase without giving reasons
Free delivery from

£45.00
AllDeynn CollaRose is an exceptionally refined supplement intended for all women who want to take care of their beauty and influence the healthy appearance of their skin, hair and nails. If you belong to this group of ladies, you cannot ignore the AllDeynn CollaRose product line with Verisol® collagen peptides.
Although for years beauty has been taken care of mainly through various cosmetics, scientific research clearly shows that shiny hair, strong nails and elastic, radiant skin are primarily influenced by the presence of certain compounds in the diet.
The nutritional status of the body translates into the condition of all tissues, both outside and inside the body. The main protein that builds the body is collagen, the production of which depends on the availability of amino acids in food and vitamin C.
Scientists have observed that when there is a lack of collagen in the diet, the natural synthesis of this compound also decreases. This applies, for example, to people on a vegan diet, because collagen is found primarily in mammalian cartilage and fish bones .
AllDeynn CollaRos is a formula that affects the collagen metabolism in many ways. It contains four active substances, two of which act directly and two indirectly. The most important are bioactive Verisol® collagen peptides, which are produced by the pharmaceutical company Gelita.
Collagen peptides are obtained by partial decomposition of collagen, so they are quickly absorbed from the digestive tract and easily available to tissues such as skin, hair and nails, but also tendons, cartilage, muscles, organs and blood vessels. In addition, CollaRose contains vitamin C, which is directly involved in the production of collagen in the body, biotin, which participates in the production of skin cells, and hyaluronic acid, which strongly binds water. Why are these additions so important?
Vitamin C Only with the appropriate amount of vitamin C, the body is able to produce collagen efficiently and effectively. Additionally, vitamin C has a significant impact on the final shape, correct and strong structure of collagen fibers, and has a strong antioxidant effect - thus supporting the young and healthy appearance of the skin. Additionally, vitamin C plays an important role in the body's absorption of iron, which helps maintain healthy hair and nails.

Biotin is also called vitamin H or vitamin B7. It is also called Vitamin of Youth. It provides us with more energy, regulates our mood and improves the absorption of vitamin C. It is a unique B vitamin that has a positive effect on the quality of our health and life. Although biotin has many different functions, undoubtedly its most popular effect is on the condition of hair, skin and nails.

Hyaluronic acid is an organic compound that is present in every living organism. It has hygroscopic properties, i.e. those that allow water to bind in the dermis. One molecule of hyaluronic acid is able to bind up to 250 water molecules. With age, the amount of hyaluronic acid begins to decrease, so it loses its ability to bind water and the first wrinkles appear.
Thanks to the wide selection of physical forms of CollaRose from the AllDeynn line, it is easy to choose the perfect product for your needs. Each contains Verisol® peptides and additives with auxiliary potential, i.e. vitamins C, B7 and hyaluronic acid. You can choose a powder with a refreshing taste, which is available in a regular (beef) and vegetarian (fish) version, as well as capsules that facilitate dosing, or shots (80 ml) that you can take with you everywhere in a hurry.
Smooth and elastic skin

Contains Verisol® collagen peptides

Strengthens hair and nails

Enriched with hyaluronic acid and biotin

Supports the reduction of cellulite and wrinkles

How to use:
Dissolve one portion (1 scoop of 6 g) in 150 - 200 ml of warm water, stir, set aside for a few minutes until completely dissolved, then consume. Do not exceed 1 serving per day.
Diet supplement. Do not consume if you are allergic to any ingredient. Do not exceed the recommended daily dose. A dietary supplement cannot be used as a substitute for a varied diet. A balanced diet and a healthy lifestyle are recommended. It is not recommended for use in people suffering from kidney stones or prone to the formation of kidney stones.
Ingredients:
Ingredients per serving (6 g) Verisol® B collagen hydrolyzate / 5000 mg Vitamin C / 120 mg (150%*) Hyaluronic acid / 30 mg Biotin / 2500 µg
*RWS - Reference Intake Value
Ingredients:
Verisol® beef collagen hydrolyzate, acidity regulator: citric acid, vitamin C (L-ascorbic acid), flavors, stabilizer: acacia gum, sweetener: sucralose, red beetroot juice powder, sodium hyaluronate, d-biotin.